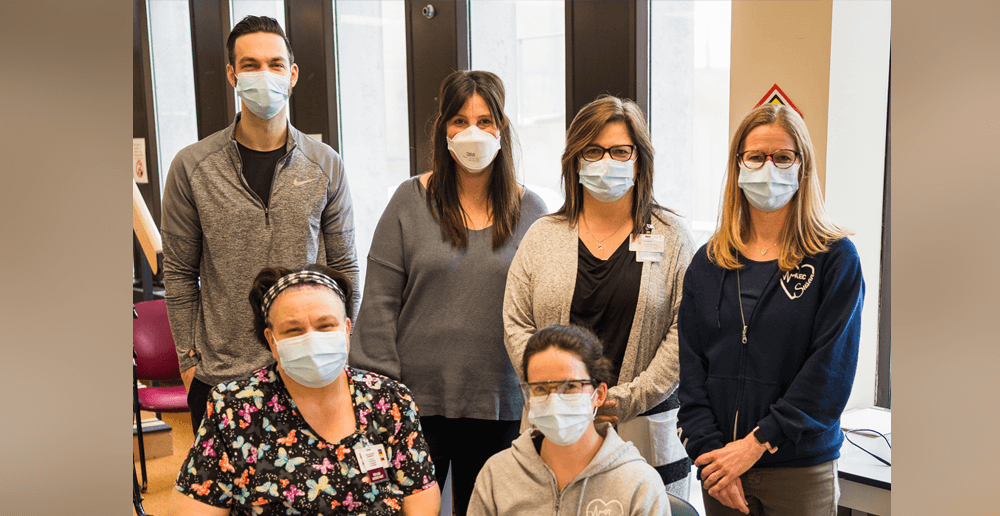 Winnipeg Regional Health Authority
Published Monday, May 9, 2022
Tell us about the Allied Health team working on the Geriatric Rehabilitation unit at Victoria Hospital.
The Victoria Hospital 4S Allied Health team provides exceptional care to the patients and families of a 28-bed Geriatric Rehabilitation unit.
The Allied Health team is comprised of three physiotherapists, three occupational therapists, two rehabilitation assistants, one speech language pathologist, one spiritual health practitioner, one recreational therapist, one pharmacist, one dietician and one social worker. Together with their nursing colleagues, home care case coordinator, the unit manager, physician assistant and geriatricians, the Allied Health team aims to support patients 65 years and older who require inpatient rehabilitation services in order to reach their functional baseline.
What are the team's goals as they relate to patients?
Allied Health staff members go above and beyond each day and are key drivers in the development of personalized care plans which includes the development of functional goals which are important to the patient and their family. Goals are supported by each allied discipline as needed and adjusted throughout a patient's stay. A feature unique to the geriatric rehabilitation unit is the availability of group rehabilitation focused gym and recreational sessions. Social work and the Allied Health team also take a lead role in connecting with families and facilitating meetings to discuss goals and discharge disposition.
The goals this team helps their patients achieve are extremely meaningful and sometimes result in a patient being able to return to their home in the community rather than remaining in hospital or personal care home. Staff also support the patient emotionally through the challenges of hospitalization and assist them and their family in ensuring their health and function will be maintained once they are discharged.
Can you share some feedback from clients?
We often hear wonderful feedback from patients and families and they are extremely grateful for the functional gains that the team is able to help facilitate.
During the various waves of COVID, this team has adapted and adjusted in order to ensure patients receive the care they need. When group gym was not possible due to infection prevention and control precautions, members of the allied team went to patients on the units and were creative in adjusting their approach. Allied Health staff also assisted in keeping patients connected to family and friends when visitation opportunities were limited. With their nursing colleagues, they helped facilitate phone calls and virtual visits via iPad. The entire team adjusted to the needed changes and remained focused on the wellbeing of their patients.
Fortunately, group sessions have now resumed and it is uplifting to hear the wonderful conversations between staff and patients as they discuss their thoughts, interests and goals. These interactions make it apparent that rehabilitation is not just about optimizing physical function but also nourishing the mind and spirit.
View original article here Source