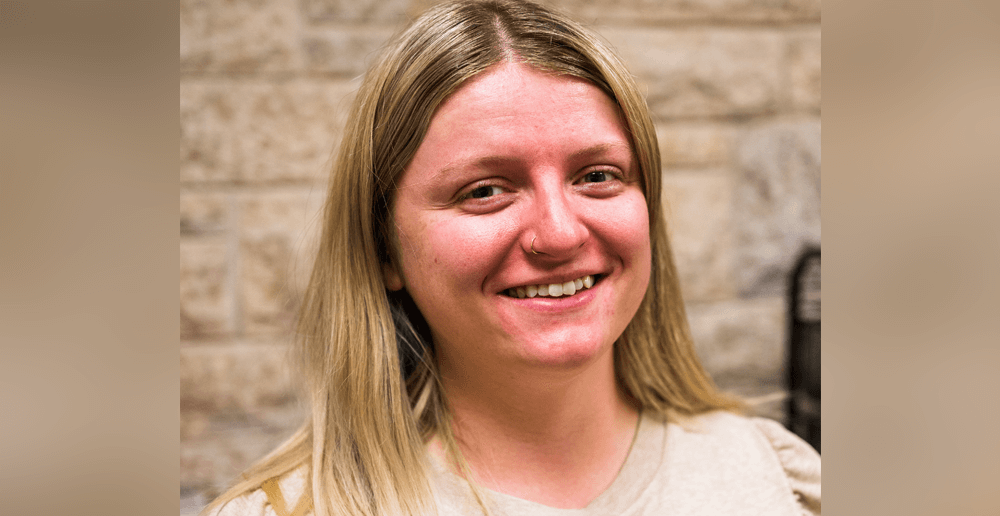 Winnipeg Regional Health Authority
Published Monday, May 9, 2022
With so many people focused on the physical impacts of COVID-19 and the added demands they have placed on the health-care system, it's worth noting that the pandemic has been equally challenging for health-care professionals specializing in mental health.
Emily McLeod, a psychiatric liaison nurse currently working in Victoria Hospital's Urgent Care department, has seen demand for mental health care significantly expand.
"Lately, it seems like there's been more and more people coming to Victoria Hospital for their mental health concerns," McLeod says. "When I started in Urgent Care less than a year ago, I was seeing between two and four patients per shift with a mental health concern. Now, I sometimes see as many as 10. Some of my colleagues who have been here longer than I have tell me that it's never been this busy."
McLeod says that while part of that increase in demand may be attributable to a reduction in the stigma people sometimes fear when reporting a mental health concern, it's likely that the pandemic has also played a major role.
"As the pandemic has progressed, it's not surprising that many people have really been struggling with their mental health," she says. "People have had their whole world changed. Some have lost their jobs, and some have lost family members to COVID. There is also the impact that comes with reduced social interaction and access to support from family and friends."
In addition to an increased demand for assistance with mental health concerns such as anxiety and depression, McLeod feels that the pandemic may also be at least partially responsible for an increase in unhealthy coping mechanisms.
"People are presenting with new or worsened addictions," she says, adding that she's noticed a rise in patients using methamphetamine (crystal meth), a street drug that is comparatively inexpensive and easy to access even for people facing economic hardship.
"We do see people coming in with meth psychosis, which can be stressful and sometimes dangerous for health-care staff. We provide medication to help patients feel better and to ease the drug's side effects. Most times, after they've slept it off, they wake up feeling a lot better, at which time we can evaluate their willingness to stop using meth and what kind of addictions resources and treatments we can recommend. People have to be ready seek that treatment."
While the rise in drug use is concerning, McLeod says that treating mental health concerns such anxiety and depression continue to be a focus at Victoria Hospital, which has in recent years developed a well-earned reputation as a local centre of excellence in mental health.
Staffed by a multi-disciplinary team that includes psychiatrists, nurses, occupational therapists, social workers and recreational therapists, the hospital's adult mental health inpatient units provide treatment to adults who require hospitalization and treatment of a psychiatric condition. The hospital also has a geriatric mental health inpatient unit specializing in the care of individuals 65 years and older, and offers outpatient mental for individuals who have recently been discharged from one of the hospital's inpatient mental health units. Patient needs can also be met through referral to offsite facilities such as the Crisis Response Centre, or by connecting patients with a variety of mental health resources available in the community.
For psychiatric nurses working in the Urgent Care department, the immediate focus is most often on assessing a patient's mental health care needs.
"We conduct a comprehensive mental health assessment and make recommendations to the urgent care team on what we think would be a good treatment plan," McLeod says. "That varies on what the patient needs and what we can provide for them — what kind of services and supports we feel they would benefit from the most. At the end of the day, we're just trying to make sure people are safe and go from there."
That desire to keep people safe also came into play when McLeod volunteered to help when, early in the pandemic, a COVID outbreak at personal care home left them in urgent need of additional staff. It not only gave her the opportunity to put her medical training to further use, but left her with a greater appreciation for nurses working in a PCH environment.
"It seems like a long time ago, but I don't think I'll ever forget my time there," McLeod says. "It was an emotional time. Even being someone who only worked shifts a couple of times a week, I cared for patients who would pass away when their family members were outside the window, not being able to be with them. With staff in shorter supply than normal, I also saw how grateful some residents were to just to have someone to talk to for a couple of minutes. I would do it all again, but it was hard."
Though the pandemic has proven to be a time of great challenge, McLeod says she has no regrets with respect to her choice of career.
"Being a nurse, whether in medicine, psychiatry, or whatever field you're in, you've got to want to do it in your core," she says. "It's got to be your passion. I love what I do. No two days are the same, and I'm always learning something new."
View original article here Source